TJ270-30A Dual Beam Infrared Spectrophotometer
Product Detail
Product Tags
Newly upgrated the new cover: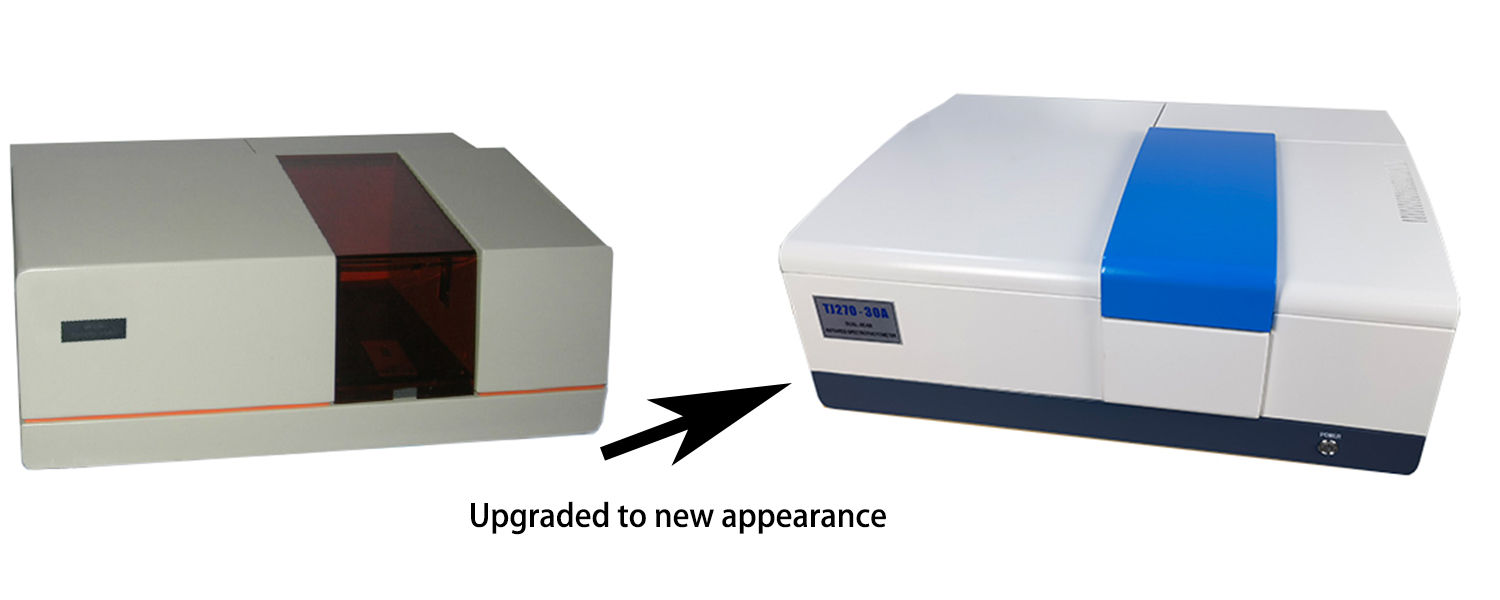 Features
High quality
Low stray light
High accuracy measurement
Simple structure with easy operation
Introduction
As an affordable analysis instrument, this typical type was so popular in part 15 years, and we have exported form hundreds sets with so many OEM brands and types, many partners gained big profits by this type.
Infrared spectroscopy is one of the most powerful techniques for identifying organic substances in organic and analytical chemistry. Infrared analysis can be both qualitative and quantitative. IR-30 is an important tool in analytical laboratories.
TJ270-30A Dual-Beam Infrared Spectrophotometer can be used to record the IR absorption and reflectance spectra of substances in the spectral range of 4000 ~ 400 cm-1. It is a powerful tool to analyze sample structures in the fields such as petroleum, chemical engineering, pharmacy, public health and environmental protection.
The Windows application software provides a user-friendly interface for the control of the spectrophotometer, data acquisition, and spectral analysis with functions listed below:
Spectral background baseline memory
Spectral background baseline correction
Spectral data smoothing operation
Spectral baseline slope correction
Spectral data differential operation
Spectral data arithmetic operation
Spectral data accumulating operation
Conversion of %T and Abs
Spectrum file management
Spectral peak search
Spectrum scale extension
Spectral absorption expansion
 Specifications
Optical system
Double-beam
Wave-number Range
4000-400
Transmittance (%)
0—100.0%
Absorbency
0—3Abs
Power Source
AC 220V±10%

、

50±1 Hz

、

300W

Wave-number Accuracy
≤±4(

4000—2000

)≤±2(

2000—500

)
WN Repeatability
≤2(

4000—2000

)≤1(

2000—450

)
Transmittance Accuracy
≤±0.5%

(

noise level not included

)

Transmittance Repeatability
≤0.5%

(

1000—930

)
Io Line Flatness and Straightness
≤4%
Resolution Capability
Polystyrene has six absorption peaks around 3000,

with height of 1% at least; Ammonia gas's resolution is 2.5

 around 1000  , with height of 1% at least.
Stray Lights
≤1%

(

4000—650

)

≤2%

(

650-400

)
X-axis Zooming
optional
Y-axis Zooming
optional
Slit Width
5 steps
Dimensions
Mainframe: 800mm´610mm´300mm
Weight
78kg with package
Packing
890x720x550mm, 76kg
---
Previous:
F-29 Fluorescence Spectrophotometer
---
Write your message here and send it to us